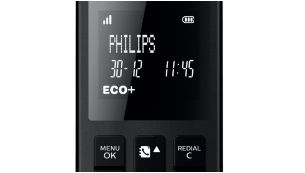 High contrast 4.6cm (1.8″) 2-line reverse display
High contrast, white-on-black reverse LCD display ensures easy reading and also blends well with the overall sleek design language.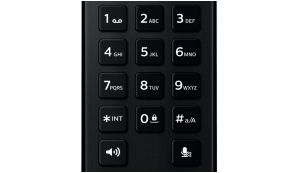 Calibrated, seamlessly integrated keys for precise dialing
The calibrated keypad allows you to clearly feel every keystroke whenever you are dialing a number or entering a phonebook contact. Detailed study of keypad materials and structures, as well as extensive user tests result in the right balance between the key pressing force and the key response to ensure precise dialing.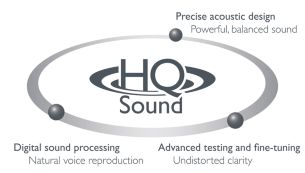 HQ-Sound: high quality acoustic engineering for superb sound
HQ-Sound: high quality acoustic engineering for superb sound reproduction. We build upon decades of experience and breakthrough innovations in developing Hi-Fi audio products and high-end headphones to deliver excellent voice clarity on our DECT phones. When it comes to improving sound quality, our acoustics engineers and architects have thought of everything – high quality components, digital signal processing, precise acoustic design, advanced testing and fine-tuning. The result is sound that is crisp, clear and authentic. Sound so good and natural, it is almost like being there in person.
Save up to 50 favorite contacts in your phonebook
Save up to 50 favorite contacts in your phonebook.
Stay connected during power cuts via micro-USB power bank
The integrated micro-USB connector socket on the base unit ensures that the phone can stay powered via a pre-charged power bank, allowing you to make calls even if the power cuts out. The power bank charging feature supports most power bank products which are able to provide a minimum output current below 85mA without automatic shutdown. Power bank sold separately.
Privacy settings: call block & call barring
Value your privacy and quiet at home? Black List restricts specific numbers or those starting with certain digits, protecting you from receiving unwanted calls. You can choose to block up to 4 sets of numbers. Each set can consist of 1 to 24 digits. If the number of an incoming call starts with any of these number sets or are the exact numbers that you chose to blocked, your phone will not ring. With Call Barring, you can avoid the surprise of expensive phone bills by blocking calls to specific numbers starting with certain digits (for example, pay per call numbers).
Enjoy 10 hours of talk time on a single charge
Enjoy 10 hours of talk time on a single charge